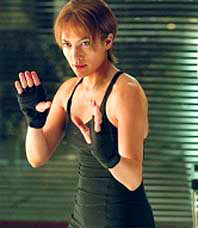 Krav Maga has been featured in several prominent mediums including film, television and video games.
Sam Fisher of Tom Clancy's Splinter Cell video game and book series is an expert in Krav Maga (for example, it can be seen in Tom Clancy's Splinter Cell: Conviction video game).
Niko Bellic, the playable character of the videogame GTA IV, uses Krav Maga moves when fighting, especially when counter attacking and defending against knives and bats.
In the movie Enough, Jennifer Lopez trains and practices Krav Maga to defend herself against her abusive husband.
Animated spy Archer revealed in the episode "Training Day" that members of his organization practice Krav Maga rather than Karate.
In the 30 Rock episode "¡Qué Sorpresa!," Jack Donaghey reveals that he has had Krav Maga training.
In The Office episode "The List," Dwight Shrute says that he has Krav Maga lessons four times a week.
The Simpsons episode "The Greatest Story Ever D'ohed" featured an extended sequence about the martial art when the family visits Israel.
Ziva David in NCIS has had training in Krav Maga while in Israel
In The Big Bang Theory episode "Recap" (S05E04), Leonard goes on a double date with Bernadette and Howard, only to be coupled with Joy, an over-active girl who trains in Krav Maga, in her own words: "basically a 100 different ways to rip a guy's nuts off."
On Russell Brand's Radio 2 Show it was frequently mentioned that his co-host, Matt Morgan, practiced Krav Maga.
In How I Met Your Mother episode "Return of the Shirt", Ted's girlfriend practices Krav Maga, which she then uses against him when he dumps her on her birthday.
In 24, character Tony Almeida is an expert in Krav Maga.
Welcome to ACF - Choose to Change your Life!
To find out more about our courses, you are requested to call us and speak to Sasmira at 9820496752
A VISIT can then be scheduled to the Academy on a Sat or Sun from 8am to 5pm by prior appointment. Depending upon your needs and requirements, we shall advice on tailormaking a program course for you, choosing from various program options. You shall be counseled extensively by our expert counsellors at no fee for either visit or counseling. Photo ID will be required for entry into the Academy for purposes of security.
THE FEE will depend upon the time slot, course selected, upon who trains you (Director, Multi Faculty or Instructors) and how many hours program selected by you) Fees are affordable considering the extensive facilities and resulting lifetime of change in personality change and combat dominance.
JOINING OPTIONS: Thereafter its upto you to join or not. When your course begins, what time slot is desired and other factors may be resolved subsequently on telephonic discussions with our office.
DETAILS
: Further details can be availed by visiting our other websites
www.MMA-BJJ-MuayThaiMumbai.com
www.SelfDefenceMumbai.com
www.MartialArtsMumbai.com
www.JKDindia.com
www.JKDasia.com
e-MAIL
 us: info@JKDindia.com OR uccamumbai@gmail.com