Welcome to Krav Maga Mortal Kombat - Affiliated to world renowned UCCA & Sanctioned by Israeli Confederation of Krav Maga. LATEST CROSS FITNESS BOOT CIRCUIT FOR ALL AGES. CALL 9820496752 OR 9969022229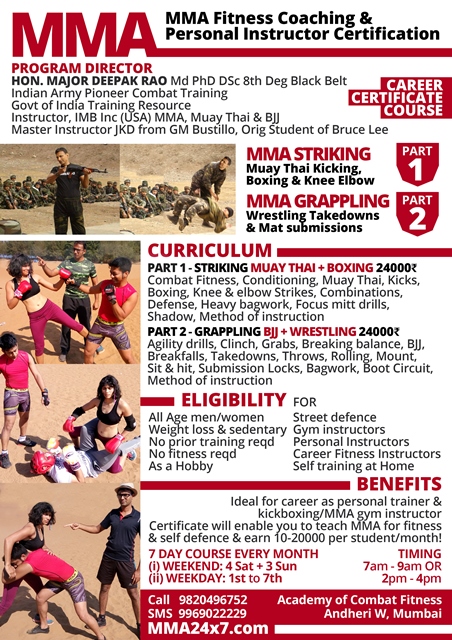 Krav Maga training has already been imparted by us to over 100 personnel of the INDIAN ARMY : Ghatak Commando Team of Mounta in Di vison for protecting the Indian soil & fighting Terrorism. The version used to train the Indian forces is Krav Maga Mortal Kombat, the Military Offensive Version. Now Krav Maga Mortal Kombat Martial Arts skills are  available for the first time in India at Mumbai at the world famous UCCA.
WE ARE THE PIONEERS OF KRAV MAGA MILITARY VERSION IN INDIA. WE RUN KRAV MAGA INSTRUCTOR COURSES FOR STUDENTS ALL OVER INDIA. NOW KRAV MAGA MORTAL KOMBAT IS ALSO AVAILABLE TO CIVILIANS.
Krav Maga, like Kick boxing is becoming very popular because of extensive press coverage. Hence every other martial artist now claims to be a Krav Maga expert without any knowledge of it. So it is important that you donot blindly join any institute rest you may end up learning routine kickboxing & believe it is Krav Maga. Krav Maga is a DEFENSIVE Art developed for Street Self Defense. All Military arts are essentially OFFENSIVE in Nature. The UCCA specializes in imparting combat training to Indian forces. The Krav Maga Mortal Kombat course at UCCA has additional Military Aggressive techniques to it.
We issue course CERTIFICATES to successful participants. These are endorsed by UCCA – the premier military martial arts center in the world with 22 International Instructors in all continents. UCCA carefully screens its applicants & enrolls select serious non criminal students. Call Dr. Tanya at 9820496752 or 9969022229 to schedule an appointment. Also check out our Newly Started WEEKEND INSTRUCTOR Course!
Contact:
Dr. Tanya Khanna (9820496752 or 9969022229)
Enail: info@jkdindia.com  |  uccamumbai@gmail.com
Faculty made of team of Ex-Military Instructors, Retired Officers, Physicians, Physiotherapists, Dieticians, Doctors, Philosophy teachers, Psychotherapists, Martial artists, Yoga instructors & Nature Therapists.
Facilities:
We are the one and only one of its kind in India.
Huge Center fully dedicated to Combat and Fitness.
Most Modern State of the Art Equipment.
Supervised Scientific Instruction for all Ages.
Holistic Approach for All Ages and M/F with focus on Fitness, Health, Combat Arts, Stress Management, Philosophy & Fun
Interact with select Students including Doctors, CAs, Engineers, MBAs, College Students, Businessmen and Homemakers.
Certification:
Courses of 3 months to 3 years
International Certificates.
Instructor Career Courses.
We are a Govt Regd NGO.
Welcome to ACF - Choose to Change your Life!
To find out more about our courses, you are requested to call us and speak to Sasmira at 9820496752 or 9969022229
A VISIT can then be scheduled to the Academy on a Sat or Sun from 8am to 5pm by prior appointment. Depending upon your needs and requirements, we shall advice on tailormaking a program course for you, choosing from various program options. You shall be counseled extensively by our expert counsellors at no fee for either visit or counseling. Photo ID will be required for entry into the Academy for purposes of security.
THE FEE will depend upon the time slot, course selected, upon who trains you (Director, Multi Faculty or Instructors) and how many hours program selected by you) Fees are affordable considering the extensive facilities and resulting lifetime of change in personality change and combat dominance.
JOINING OPTIONS: Thereafter its upto you to join or not. When your course begins, what time slot is desired and other factors may be resolved subsequently on telephonic discussions with our office.
DETAILS
: Further details can be availed by visiting our other websites
www.MMA-BJJ-MuayThaiMumbai.com
www.SelfDefenceMumbai.com
www.MartialArtsMumbai.com
www.JKDindia.com
www.JKDasia.com
e-MAIL
 us: info@JKDindia.com OR uccamumbai@gmail.com