Instructor Course
Krav Maga is rapidly becoming the most modern fitness system & craze in India. Since there are no Isreali trained Instructors in India & Mumbai, every other martial artist teaches the irrelevant Karate moves under the name of Krav Maga. There is a serious need of authentic Krav Maga Instructors. The UCCA is the internationally renowned academy teaching Military Martial Arts. The Directors are involved in training Indian forces in Close Quarter Battle. UCCA has started Instructor courses at very affordable rates. These rates are one tenth of the cost of Instructor courses in the World.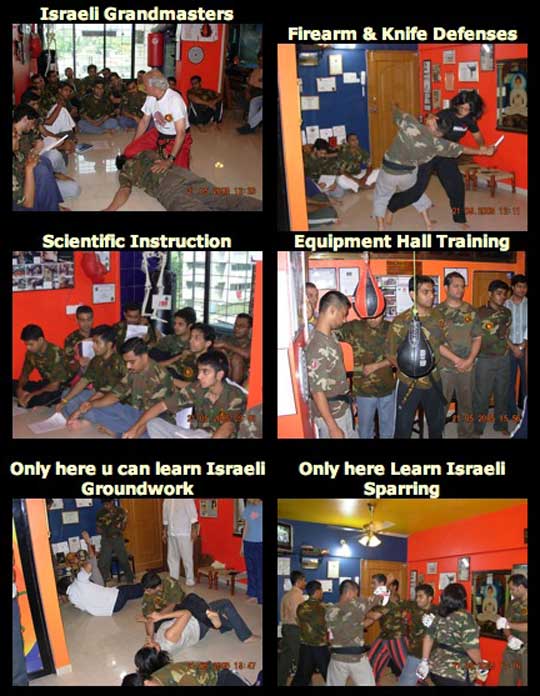 Sample Course certificate as below:

There are many modules available to suit individual needs. THE KRAV MAGA MORTAL KOMBAT INSTRUCTOR COURSE HAS FOLLOWING FLEXIBLE MODULES.
I) REGULAR 6 MONTHS MODULE:
ONE HOUR LESSON TAKEN TWICE A WEEK FOR 6 MONTHS.
II) ACCELERATED 1 MONTH MODULE:
FOR THOSE WHO ARE PREPARED TO WORK HARD, THE SAME LESSONS CAN BE TAKEN WITHIN TWO MONTHS. HOWEVER YOU WILL BE REQUIRED TO TRAIN HARD TO MEET THE PRESCRIBED REQUIREMENTS.
SEE DOWN " WEEKEND COURSE" FOR DETAILS
III) OUTSTATION STUDENTS MODULE:
YOU CAN COMPLETE THE IN HOUSE INSTRUCTOR PROGRAM WITHIN A WEEK. STAYING & FOOD WILL BE AT YOUR OWN COST. HOWEVER WE WILL HELP YOU TO OBTAIN ACCOMODATION WITHIN YOUR BUDGET.
EXAMINATION:
IRRESPECTIVE OF THE MODULE SELECTED, FOR ANY INSTRUCTOR COURSE CERTIFICATION, THE STUDENT WILL HAVE TO QUALIFY IN THE KRAV MAGA MORTAL KOMBAT EXAM: THEORY, HANDS ON & ORAL VIVA.
COURSE FEE:
THE COURSE FEE IS THE SAME FOR ALL 3 MODULES. SINCE UCCA IS A NON COMMERCIAL ORGANIZATION DEDICATED TO SERVING THE INDIAN FORCES, COURSE FEE WILL NOT BE DISCUSSED ON LINE.
ELIGIBILITY CRITERIA:
NO CRIMINAL RECORD
LEVEL HEADEDNESS
STRENGTH OF CHARACTER
ADMISSION WILL BE GRANTED ONLY AFTER AN INTERVIEW. THE UCCA RESERVES THE RIGHT TO REFUSE ADMISSION TO ANY STUDENT WITHOUT EXPLANATION.
HOW TO ENROLL:
STEP 1: CALL US DR. KOMAL AT 9820496752 (MUMBAI) & DISCUSS YOUR REQUIREMENTS.
STEP 2: SCHEDULE AN INTERVIEW WITH US
STEP 3: FILLING OUR FORMS & SIGNING A NO LIABILITY TO INJURY BOND
THEREAFTER YOU ARE ON…. YOUR JOURNEY WITH THE MOST PRESTIGIOUS NO. 1 RANKED ACADEMY OF MILITARY MARTIAL ARTS IN THE WORLD.
WEEKEND INSTRUCTOR COURSE
Newly Started - CIVILIAN INSTRUCTOR
(Assistant Instructor) CIC-1 & (Certified Instructor) CIC-2
Course will help you to start an Independent career as one of the few certified Krav Maga Instructor in any health club as well as teach private clients.
4 weekends Sat & Sun 2 hours each day.
Begins Every Month from first weekend.
Personalized: One Instructor per student
Convenient Timings for Working people
Extensive Syllabus:
Theory
Hands on Israeli Techniques
Media Leraning with Audio visuals & Books
Train with latest Equipment
Israeli Tactics & Strategy
Military Fitness
Semi Contact Light Sparring
All out Fighting with complete protective gear
Mental Techniques of Mind Control
Hypnosis to overcome Fear Response
Confrontational Negotiation
First Aid & CPR.
International Certifications from UCCA.
Authorization to start teaching Krav Maga.
Website Entry into National Krav Maga Directory
Referral of Students
Cost of Course is 50 % of Price elsewhere
Special Short Instructor Crash Courses for those outside Mumbai, Intensive 3 hours daily for 5 days each for, CIC-1 & CIC-2. You can represent us in your Region and start a fresh career in the most happening Fitness Revolution.
Welcome to ACF - Choose to Change your Life!
To find out more about our courses, you are requested to call us and speak to Sasmira at 9820496752
A VISIT can then be scheduled to the Academy on a Sat or Sun from 8am to 5pm by prior appointment. Depending upon your needs and requirements, we shall advice on tailormaking a program course for you, choosing from various program options. You shall be counseled extensively by our expert counsellors at no fee for either visit or counseling. Photo ID will be required for entry into the Academy for purposes of security.
THE FEE will depend upon the time slot, course selected, upon who trains you (Director, Multi Faculty or Instructors) and how many hours program selected by you) Fees are affordable considering the extensive facilities and resulting lifetime of change in personality change and combat dominance.
JOINING OPTIONS: Thereafter its upto you to join or not. When your course begins, what time slot is desired and other factors may be resolved subsequently on telephonic discussions with our office.
DETAILS
: Further details can be availed by visiting our other websites
www.MMA-BJJ-MuayThaiMumbai.com
www.SelfDefenceMumbai.com
www.MartialArtsMumbai.com
www.JKDindia.com
www.JKDasia.com
e-MAIL
 us: info@JKDindia.com OR uccamumbai@gmail.com